Exploring YouTube Analytics To Maximize Your Channel's Performance
Video content is taking the internet by storm. This makes YouTube the most sought-after video platform in the world. It can take you from rags to riches (internet view wise) overnight.
As a creator, you make relentless efforts to grow your channel and get exposed to new audiences.
But growing YouTube channels involves making the right decisions. And that comes from analyzing your performance. 
Here comes YouTube Analytics into the picture. YouTube Analytics plays a crucial part in your channel's growth.
Let's assume you put much time and effort into creating your content. But does that suffice? Creating content is half the job unless you don't know how to reach the right people.
YouTube Analytics helps you understand how people are responding to your content. By monitoring your strengths and weaknesses, you can create your upcoming strategy. 
Many people think that tracking and YouTube Analytics require technical expertise. But that is not true. All you need is common sense and a knack for observing things closely. 
Today's excerpt will unfold the secrets of YouTube Analytics and help you skyrocket your channel's growth.
So let's start from the basics. 
You May Like To Read This: How To Make Money Online Via Guest Post Service
What Is YouTube Analytics?
Simply put, it is a dashboard that comes with every YouTube channel. Here you can see how your content has performed regarding the tracking metrics.
The Dashboard Gives You Insights On: 
Videos are performing the most. 
Not so-popular videos on your channel. 
Your target audience. 
Their demographics. 
Traffic sources. 
Engagement.
By leveraging YouTube Analytics, you understand what your audience expects from you. In turn, you can tailor your content that resonates with your audience.
Steps To Access The YouTube Analytics
Accessing YouTube Analytics is as easy as opening your favorite app. Here are a few steps that can help you find the analytics on the platform:
(i) Open YouTube Studio 
Visit http://studio.youtube.com/ and simply log in. If you're already logged into your account, click on the profile icon on your account and select YouTube Studio. 
(ii) Hover Over The Dashboard 
Once you log in to your account, you land on a dashboard. Now, from the left panel, click on Analytics and get a performance analysis of your channel. 
(iii) Clicking The Data Type 
It's time to go deeper into your analytics. Select the data types that you want to track. Hover over the top of the screen to see four tabs such as – Overview, Reach, Engagement, and Audience. Choose the tab you wish to explore and make the most out of YouTube Analytics.
For more details, check this official guide from YouTube help. 
Important Metrics Of YouTube Analytics
Are you wondering what to track on YouTube Analytics? Here you go:
(i) Watch Time
This report provides a breakdown of the total watch time across all your videos, helping you to identify which videos are performing the best.
You can easily rank them according to watch time and categorize them by length or theme. What's more?
YouTube tends to prioritize videos and channels with higher watch times in its search results and recommendations, resulting in greater engagement for your videos.
If you don't have a majority of watch time coming from subscribers, you may not be making the most of your subscriber base.
To increase your engagement, post new content on a consistent schedule so your subscribers always know when to expect your videos and can watch them right away.
(ii) Subscriber Growth
Those who subscribe to your YouTube channel are dedicated supporters!
They're eager to watch your latest videos, and they'll get an alert when you upload new material. Plus, your content will appear on their homepage, giving you even more exposure.
The Subscribers Report keeps an eye on your subscribers and pinpoints videos, places, and times when you either gained or lost them.
This feature of YouTube Analytics can also help you figure out what your subscribers are interested in.
Schedule your videos when they are most likely to be online so that you keep viewers engaged and increase your search engine visibility and watch time.
(iii) Duration
A metric called average view duration is one of the methods YouTube Analytics uses to evaluate the performance of a video. The principle is quite straightforward: if viewers watch a video to its conclusion, it's likely that it satisfies their needs.
However, if they click on it and quickly switch to something else, that could be an indicator that the video is of low quality or isn't delivering what was promised by its title and thumbnail.
Bear in mind that it is average, so some viewers may watch the whole video while others may quit early.
If your average view duration remains above 50%, that's a good start – the algorithm will recommend it to more people.
(iv) Revenue Fluctuation
Let's be frank! Everyone wants to earn through their YouTube channel. Monetizing your channel should be your goal while starting your channel. Once that's taken care of, monitor any changes in revenue to get a better idea of how your videos affect revenue.
Don't forget that a dip in income doesn't mean you need to make changes right away. Instead, consider the main goals of your channel and decide if you want to make more money or focus on other objectives.
(v) Engagement Numbers
To ensure your YouTube audience loves your content, focus on engaging them. Monitor your average view duration to measure how engaged they are, and keep an eye on the comments and likes you receive.
That way, you can be sure they're watching your videos to the end, leaving comments, and liking them.
(vi) Unique Viewers
This one can be easy to miss, but it can give you a more accurate picture than just total views. Sure, it's great when someone watches your content multiple times, but that doesn't mean you've reached a new audience. To get a better idea of how many people you've actually reached, it's important to look at unique viewers. That way, you'll know how successful a specific video or your channel as a whole is. 
(vii) Keywords
You can find the Search Report on YouTube under the Traffic Sources Report. It'll show you the most popular search queries that have led people to watch your videos. To make sure these queries match the topic of your video, you can add the keywords to your metadata.
This way, you can craft descriptions and create content for future videos that will likely be highly searched. Plus, if you use the top search terms on your YouTube video title or playlist, it'll be easier for people to find your related content.
(viii) Impression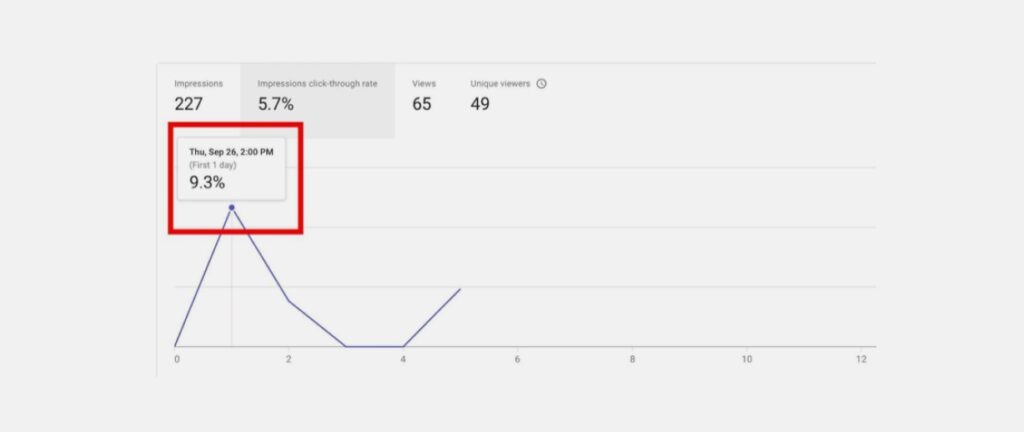 Whenever your video appears in YouTube's search results as a result of a user's query, an impression is logged in your thumbnail, and the video title is presented for the user to click.
To maximize success on YouTube, it is important to optimize the click-through rate of these impressions by getting as many clicks as possible.
(ix) Audience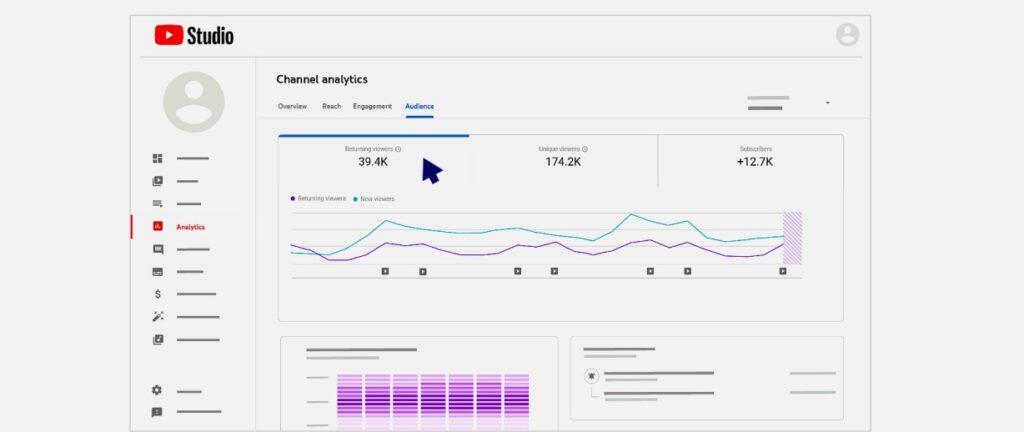 Disclaimer: Don't misinterpret a 'number of times' with a 'number of people.' This is a statistic that reflects the total number of times people watched your video. Also, you can get the count of your total watch time from here. 
If you're looking for the ideal time to launch new videos, the data in this section can assist you in optimizing your publishing process.
(x) Traffic Source
The breakdown of your channel's traffic sources should give you a good idea of what is already successful so that you can refine your marketing efforts accordingly. It could be a combination of external sources, YouTube search results, and suggested videos.
(xi) Gender
Do the numbers back up your expectations about the age and gender of your target demographic? If not, you may want to consider changing up your content planning strategy, depending on whether your audience is younger or older than you anticipated.
(xii) Geography
Curious to know the geographic locations of most of your viewers? It's convenient – just a click or tap away in the Geography section. If a large portion of your audience is from one area, why not create content specifically for that market?
(xiii) Impressions
Let's understand the calculation behind CTR (click-through rate) – you need to divide the number of clicks on your video thumbnail by the number of times it was displayed (impression).
Let's assume your video was clicked 30 times, and the impression of your video is 600.
Here your click-through rate is 5%.
According to our experts, A CTR of around 10-12% is really impressive. Whereas if you're able to attain 5-6% CTR – we call it a satisfactory performance.
With YouTube Analytics, you'll get the chance to monitor your impression and plan your next move.
Benefits Of YouTube Analytics
Imagine you're cooking your favorite dish. You bought the ingredients, chopped the vegetables, and prepared the essentials. Now, what do you need? You need to prepare the dish and add spices according to your taste.
The above example is something that resonates with the functionality of YouTube Analytics. Just like cooking, where you make the food according to your taste. Similarly, your content needs the final touch to make it aligned with the audience's expectations. That is where YouTube Analytics helps you to do the same. 
So, let's explore the proven benefits of YouTube Analytics:
(i) Know Your Audience 
One of the key reasons for leveraging your analytics is understanding your audience in a much more detailed way.
Numbers Don't Lie. YouTube Analytics Reflects A Clear Picture Of Your Audience. 
Have you noticed any patterns? Does any specific type of video perform the most? 
Have you attained the desired watch time? 
Do they like long-form or short-form videos? 
Getting answers to these questions enables you to create an optimum content strategy and augments your chances of ranking higher on YouTube.
(ii) Identifying The Best & Worst Performing Content
Evaluating your channel with YouTube Analytics lets you know how people are consuming your content.
Imagine you have a cooking channel. There are some videos on your channel that are performing better than others. You checked the analytics and observed the fact that videos from some specific cuisine attract higher watch time.
(iii) It helps To Explore The Demographics 
YouTube Analytics gives you an opportunity to narrow down your audience by age, location, gender, etc. It aids you in knowing whether you're reaching your desired audience or not.
(iv) Accurate Data Tracking 
For any business decisions you make, having access to the right data is essential. This is no different on YouTube, where the Analytics tool comes directly from the source and provides reliable, actionable insights. Doing this will help you to make smart decisions for your channel – no more guesswork!
Final Judgment!
The purpose of your video is to acquire more followers, and YouTube Analytics Data can help you learn what kind of videos draw more subscribers to your channel. Then you can use this knowledge to create better videos that get more subscribers.
Navigate to the Video tab in your YouTube Analytics Data, here; you can get a view of all your videos and the number of subscribers they've gained and lost. Then switch over to Advanced Mode to analyze all the data associated with each video.
We hope that this article was successful in telling you the importance of analyzing data through YouTube Analytics.
Make the most of YouTube Analytics and tailor your content strategy for optimum success.
Go to your YouTube Analytics and analyze your data. Tell us, where is your content lacking?
Read Also: