15 Types Of Marketing Video To Boost Your Business In 2023
When was the last time you scrolled social media? Maybe a few minutes ago? Chances were higher that you were watching a reel, a YouTube video, TikTok, or something else!
Video content is everywhere, be it a 30-second video or an hour-long podcast video!
Videos hook the attention span of users and keep them engaged. Hey, are you a business owner? Would you like to make the most of this ever-evolving predominance of videos?
Are you someone who wants to create marketing videos but don't know where to start?
When it comes to videos, there is no one-size-fits-all approach.
Every campaign has a different audience, goal, period, etc. This is why your videos must also be campaign-specific.
Are you aware of the types of marketing videos that you can create for your next campaign?
If you haven't figured it out, you've landed in the right place. In this article, we will discuss 15 types of marketing videos that can change your game in 2023.
You May Like To Know About 10 Video Marketing Tips For Your Business
15 Types Of Marketing Videos That You Need To Know In 2023
Before you shoot your videos, you need to know the type of video you will produce. Marketing videos come in the following types:
1. Testimonial Video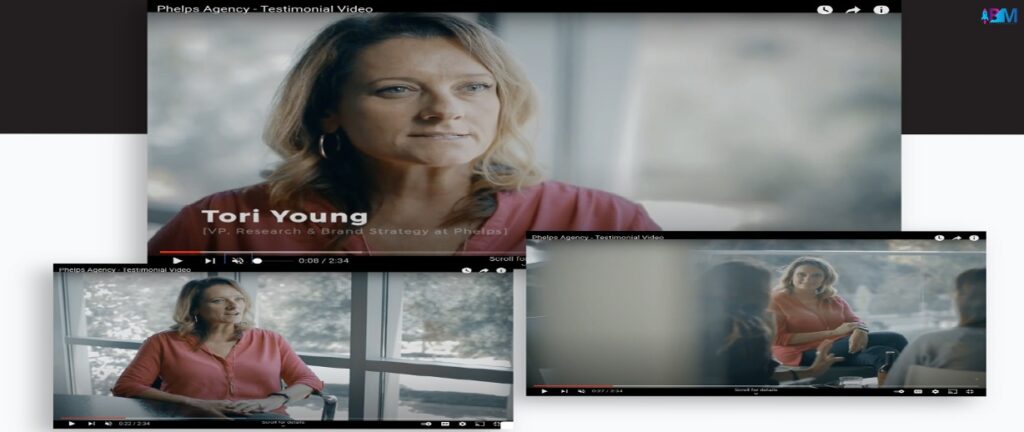 A testimonial video is a token of appreciation. In this video, the business explains how they solved customer issues with their product and services.
The essence of testimonial videos is tapping into their audience's pain points. It helps them to establish an emotional engagement.
People like to hear out original stories.
Let's assume you want to start your blog but don't know where to start. You come across a YouTube ad that promotes a blogging course. The ad shares a success story of a person sharing his personal experience with that specific blogging course.
The ad also showcases that the person was confused before taking the course. You find the ad relatable and buy the course.
Yes, this is how a testimonial video works.
Let's Explore Different Types Of Testimonial Videos:
Before vs. after
Customer journey
Combining two other videos with different perspectives
2. How-To Videos
Informative videos don't necessarily have to be for students. You can also leverage them through your marketing strategy.
They revolve around a topic and share in-depth information. People love to engage with videos that solve their problems. And how-to videos do the same for you. This format is similar to blogs, providing basic answers to common questions.
How-to videos are an ideal way to promote upcoming events strategically. It is a great way to include multiple calls to action and to encourage viewers to take the next step of the marketing funnel.
When to use how-to videos?
If you want to generate value and establish yourself as a credible source of information within the industry – how-to videos are your go-to choice.
Examples: How to start a blog? How to write an SEO-optimized article?
So if you're looking for marketing videos for your business, consider 'how-to videos.'
3. Brand Video
The next type of marketing video is a brand video. They are basically short and crisp – yet high-quality videos. They revolve around the vision of your band.
Brand videos basically resonate with your brand voice. The essence of this type of video is to share your brand message within a few seconds.
We are quite sure that you have watched short production videos while watching a movie. And lasted for you even today. This is the beauty of brand videos. They leave a long-lasting impression within a few seconds.
When to use brand video?
They could be your YouTube channel's first video, Instagram's first story, or pinned video.
4. Demo Videos
We all know what a demo video is. Demo videos will only talk about the product and its specifications – as simple as it may sound.
As it mostly talks about the features of a product, you must cover different aspects of your product.
Where to use demo videos?
Demo videos are ideal for the decision-making stage. That is, your customer is interested in your product, has done their research, and is now thinking about buying your product.
Here demo videos act as fuel.
Examples: Let's take the most common example. Most of us have bought smartphones from an e-commerce site. On the product listing page, you'll see a video about the smartphone specification – unboxing the product, connecting the charger, etc.
5. Webinars
Almost 39% of B2B marketers leverage webinars. And if you're from the B2B industry, you already know what webinars are.
It is a digital event scheduled at a specific date and time. Thought leaders or industry-recognized entities mostly conduct Webinars. They help share industry insights and offer value to your audience.
In other ways, you can consider webinars as a knowledge-gaining session and a tool to upskill yourself. This is why it comes with a structured format.
So if you're looking for a thought-provoking marketing video – webinars are your must-choice.
When to conduct webinars?
Most of the course creators include webinars in their sales funnel and use them as a tool to bring conversion.
A marketing webinar comprises 3 parts: offering customer value, Q&A, and a sales pitch.
6. Teaser Video
The goal of teaser videos is to evoke curiosity and bring clicks. If you're a movie fanatic, you already know what a teaser video is. Recall what a movie teaser is. They are short trailer videos that encompass 'wow moments' of the movie.
Or you may have seen those ads like 'iPhone 14 is coming soon' or something like this.
We hope that the above analogies were sufficient to help you understand what a teaser is.
To make an effective teaser video, it's important to set a goal and decide on a call to action ahead of time. It should be captivating, exciting, and action-oriented, with the best content in a short amount of time.
When to use a teaser video?
If you want to create hype around your product and service, make a teaser video. Plus, you can also use teaser videos for your email marketing campaigns.
7. Work Culture Videos
Work culture videos are generally short and used in the middle of a funnel. These videos share the personalized experience of employees:
The experience with working for the company. 
How is the journey so far? 
What is special about the company. 
Recruitment video. 
Q&A session with an employee. 
They bring authenticity to the table and establish trust. So, it's highly beneficial to consider them as your marketing video.
When to consider work culture videos:
From the short-run perspective, work culture videos aim to attract the best talents to an organization. And if you consider the broader picture, they make sense in branding.
8. Documentary
If you're looking for a fresh, innovative way to grow your business, consider a documentary as your marketing video.
This relatively new type of video format revolves around a real-life story and can potentially give your business the desired boost!
By providing the target audience with an in-depth analysis of a relevant topic to their industry, this storytelling format encourages them to explore the moral implications of the storyline, offering an engaging experience that can help shape their understanding of the industry.
By taking everyday stories and offering up your product as a valuable solution, you can create an emotional connection with viewers that resonates deeply.
Documentaries revolve around candid characters that viewers can relate to and trust, so it's the perfect way to demonstrate how your product can be the solution they need.
When To Use Documentary?
Media companies have long cherished documentaries as a form of thought leadership.
But…now, companies from all kinds of industries are jumping on board and discovering the power and potential of documentaries to tell stories and engage their audiences.
With documentaries, business owners can create long-form videos that encapsulate their message and leave a lasting impression.
9. Interviews Of Industry Experts
Recording interviews with the thought leaders and esteemed experts within your sector effectively cultivate trust and credibility with your target audience.
Here, you can demonstrate your authority and bolster your brand's reputation.
If you want to impact your industry, find the key thought leaders and bring their conversations and ideas to your audience.
Connecting with these industry innovators is a great way to get your message heard and give your audience the most up-to-date news and perspectives.
This type of marketing video offers an in-depth exploration of the industry, with insights from the experts that provide tangible takeaways for those watching.
Dive in and get the invaluable knowledge these industry professionals have to offer!
10. User-Generated Video
Don't let time and resources keep you from having engaging content for your brand!
Get creative and leverage the power of your followers by encouraging them to create videos using your product. It's an easy way to keep your audience involved in what you're doing and will help fill that content gap.
As people continue to create content that reflects their experiences and opinions of products, user-generated content (UGC) is quickly emerging as a powerful force in the digital world.
These sharing are popping up on social networks, brand sites, and other online channels, from product reviews to pictures. This type of marketing video is becoming increasingly popular and has the power to influence people's buying decisions.
11. Case Study Video
A well-crafted case study is a powerful addition to your marketing arsenal. It provides tangible examples of how your company can solve problems. And you must consider them as your marketing video.
By showing real-world examples of how a product or service has benefitted former customers, case studies clearly prove that a purchase is a smart decision.
Case study videos often take the form of interviews or question-and-answer sessions between the subject of the case study and a company representative.
This helps to engage viewers and allows them to gain an in-depth understanding of the subject by hearing directly from them about their experiences.
12. 30-Second Videos
Social media videos like Instagram Reels and TikToks have become incredibly popular for creating and sharing short-form videos that feature amazing transitions, captions, and stunning video effects.
And the best part is that you can consider them as your marketing video.
These fun and creative videos can pack an amazing amount of entertainment into just a minute or two, and make sharing creative content with friends and other users super easy and fun.
Creating original, creative video content can help propel your reach and engagement on TikTok and Instagram Reels. However, the most successful posts often ride the wave of a popular song, format, or trend. Consequently, if you want to maximize your engagement, it's important to stay up-to-date with current events and popular trends.
13. Video Ads
Video ads have a major advantage over image ads.
This Type Of Marketing Videos Attracts More Clicks And Gives You A Chance To:
Show your creativity.
Showcase the brand's unique style.
Create a lasting impact on your audience.
Creating effective advertisements that attract and engage your target audience can often be challenging, but a great place to start is by thinking mobile-first.
Ensure that your message is heard clearly and understood easily by potential customers.
Here's The Format That You Can Follow For Ad Videos:
Hook (Problem-statement).
Solution (the promise).
Call to action (Redirecting the user to the landing page/sales page).
Keep a conversational tone throughout the video as if you're talking to your friend. And please make sure that you use attractive visuals.
14. Events
Have you been to events?
Event Videos Capture The Excitement And Energy Of:
Conferences
Fundraisers 
Roundtable discussions
They allow viewers to experience key moments as if they were in the room!
You Can Incorporate The Following Moments In An Event Video:
How the experience of the entire event from start to finish.
A glimpse of key moments.
Informative presentations. 
Q&A interview moments. 
If you're still uncertain about adding them to your marketing videos – it's a big yes from our side.
15. Training Videos
Training videos are a great type of marketing video that help people understand a product's features, from the basics to the more advanced stuff.
Not only do they explain the features in detail, but they also provide tips and tricks.
So, if your audience is curious to learn more about your product, training videos are a great way to start!
They come with high value content that help potential customers make informed purchase decisions and learn how to use the product correctly.
Over To You!
Are you looking for the simplest way to promote your business?
Why not pick up a camera, and start creating marketing videos?
Not only will you be able to reach a much wider audience, but you'll also be able to showcase your products or services engagingly and creatively.
Have you devised your video marketing plan yet?
Start taking action and try it – you might even have fun while at it!
Read Also: