How To Make Money Online Via Guest Posting Service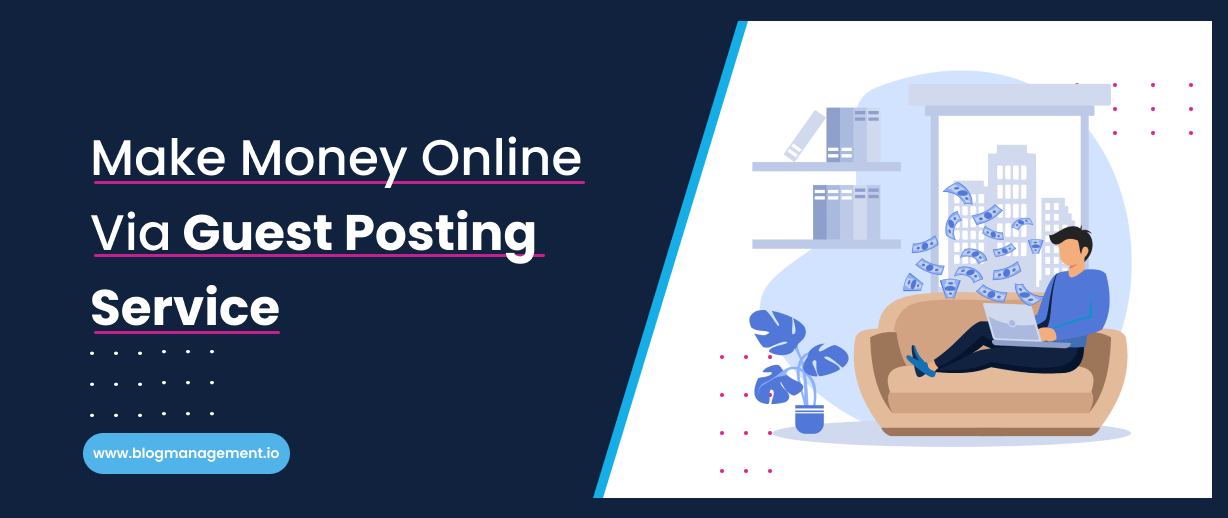 In recent years, many aspiring bloggers are making money via guest posting services. Running a decent enough blog can be one of the most credible ways to make money online. It can allow you to reach advertisers like brands, agencies, and resellers that are always looking to build links. Link building helps them improve the SEO of their business websites.
For most, guest posting is a win-win situation. For the brand, it is all about publishing content on a niche blog that helps them gain visibility and clicks. For the blogger that owns the blog, it is about getting an authentic and genuine piece of content. However, high-performance blogs are prime digital real estate. This is why great bloggers make thousands by selling guest posts.
In this resource article, we are going to discuss the following important things about making money via guest posting-
What is guest posting in SEO and why it is so popular?

What kind of a blog do you need to start accepting payments for publishing guest posts?

How bloggers need to improve performance to make money via guest posting service?

Why Blog Management is the best platform to make money via guest posting?

The Bottom Line
If you are someone that runs a blog, or, plans to start one, reading this should be a top priority.
What Is Guest Posting In SEO And Why It Is So Popular?
In very simple words, Guest Posting is the act of writing content for someone else's blog or website. Brands, agencies, and resellers use guest posting as one of the most preferred ways to build backlinks for their websites.
Backlinks continue to be one of the top-ranking factors for Google. This means that sites with high volumes of backlinks stand a higher chance of ranking on search engines. Guest Posting enables businesses to build backlinks on blogs, websites, and other digital real estates.
It is true that there are several best practices for Guest Posting. Experts opine that guest posting should be done in niche-related blogs and websites. Additionally, the higher the authority of the blog or website where you are publishing your brand's content, the better it will be for SEO.
Bloggers receive guest posting requests and pitches when they run blogs. This is why guest posting has become such a great way to make money online for bloggers.
The following are some of the advantages of Guest Posting for Brands/Agencies and Resellers
Guest Posting is the process of publishing branded content on a blog or another website. This website already enjoys specific traffic and audience. Brands want to put their content out in front of new audiences that can buy their product or services.

Brands that engage with guest posting hope to build on their branding. Imagine this as spreading the word about your brand in front of people already interested in the niche. A lawnmower brand promoting itself of a blog that offers gardening tips and tricks!

Guest posting through quality content creation can help in diverting traffic to a brand's website. This can help in improving traffic, as well as generating sales and revenues when interested audiences visit the brand's product or service pages.
The Quality Of The Blog You Need To Start Making Money Via Guest Posting Service
While you might think that making money via offering guest posting services is easy, the reality is different. You cannot buy a domain, set up hosting, design a theme and expect that everyone will reach out to you. I am sorry to say, but it does not work that way!
While starting a blog has become incredibly easy these days thanks to WordPress and Hosting, making it successful is another story altogether. Bloggers who are looking to make money by publishing guest posts need to be ready to improve the performance of their blogs.
The following are critical factors that brands, agencies, and resellers look at when making a paid guest posting offer-
1. Domain Name Best Practices-
SEO experts have their own set of guidelines when it comes to assessing the quality of the website. The first thing that they look at is the name of the domain. It should be legible, easy to pronounce, and in best-case scenarios, should correspond to the niche of the blog. They also avoid dashes (-) in the domain name, and prefer .com, .org. and, .net sites more than others.
2. Metrics of the Guest Posting Site
The metrics of a website speak a lot about its performance and capabilities. In this area, SEOs look for Domain Authority (MOZ), Page Authority (MOZ) Domain Rating (AHREFS), Page Rank (Google), Google Indexed Pages, and Alexa Rank. SEMrush Traffic and Spam Score of the website are looked at to ascertain the quality and level of the digital real estate.
3. Age and Security of the Domain
SEO best practices state that the more aged a domain, the better is its credibility in Google's eyes. Google also takes into account the period for how long the domain has been registered. It just shows that the publisher or webmaster is committed to keeping this platform on the internet for a long time. Additionally, SEOs also look at HTTPS or SSL certificates for security.
4. Niche Versus Multi-Category Versus PBNs
Guest posting best practices dictate that niche sites are the best ones to publish on. For Google, this seems to be the most obvious partnership between business websites and blogs. However, high-quality multi-category sites are also preferred by some SEOs. The aim should be to move beyond Private Blog Networks (PBNs) and to develop niche blogs and websites.
5. Great Website Design and Development
Good-looking sites that are designed well are preferred when it comes to paid guest posting. If the site has good loading speeds, has an installed site map and indexing takes place fast, it all shows that the development has been done well. Design and development are critical areas that can attract the attention of brands and allow you to make money via guest posting services.
6. Quality of Content on the Blog or Website
Assessing the quality of the content on the blog site is a great marker for SEOs. They analyze the length of the content that is already being published and make judgments about the site. There are many high-quality niche blogs that only accept 1500+ word paid guest posts. On top of the word count, these articles or content pieces need to be 100% original and SEO-friendly.
How Bloggers Need To Improve Performance To Make Money Via Guest Posting Service
By now you must have gotten a fair idea about the kind of blogs and websites that brands prefer. In this section, we will look to optimize some of the ways bloggers can improve the performance of their websites. If you are looking to make money via guest posting service, pay attention to this section carefully-
1. Regularly Publishing High-Quality Content On The Blog
Leading bloggers that own and operate high-performance blogs swear by a regular publishing schedule. Publishing high-quality content is not only great for your subscribers but also helps search engines understand and track indexing. Content that is highly optimized for SEO, has a word length of 1500+ and contains images is what Google and audiences look for.
2. Ensuring On-Page Optimizations Are Working At Their Best
Webmasters that run blogs need to pay careful attention to their On-Page SEO optimizations at regular intervals. They need to ensure that the site and page loading speeds are great. They also need to work on mobile responsiveness, URL structures, page title descriptions, and more. Regular on-page optimizations help in improving site performance and metrics.
3. Pursuing strategies that improve traffic and site metrics
A good publisher or webmaster knows the importance of always improving their website. They try strategies like using social sharing, placing content on Q&A platforms like Quora to improve traffic. Just like brands, blog platforms build backlinks. Every time they accept a paid guest post, they balance it by publishing a high-quality article and building one backlink.
4. Marketing their Blogs and Websites better
Great blog sites do not need to invest in outreach. They get plenty of inbound leads and offers for guest posting. A trick that most bloggers use is to rank their 'Write For Us' pages. This allows them to get found by SEOs that are looking to publish guest posts either by paying for them or for free. You can also share your blogs on social media, or list them on platforms.
5. Set Guidelines for Advertisers looking to Publish Guest Posts
If you are only interested in making money via guest posts, you will be receiving a lot of trashy content, poor-quality links, and more. This is why you need to set up ground rules for selling guest posts on your blog. Make sure no one sends you plagiarized content or that any article is less than 1000 words. You can also say that you will give links to sites with a DA above 20.
All this will ensure that your blog does not get penalized by search engines like Google. The aim should be to strike a balance between accepting paid guest posts and maintaining the quality of your website or blog.
Why Blog Management Is The Best Platform To Sell Guest Posts
I am sure that if you have been in the industry for some time, you might know about guest posting platforms that aggregate publishers. There are numerous ones like ADSY, PR News, AllGuestPost, and Blog Management.
Blog Management has become a premium destination for bloggers looking to make money via guest posts. This is because the platform was created with the intention of improving the experiences of publishers and bloggers.
The team behind Blog Management are publishers that understand the problems most bloggers go through. They know how untrustworthy the entire ecosystem around paid guest posting is. Platforms that give orders almost become dictatorial listing down specific days for payments and exploiting bloggers and their blog sites through means like 'bidding'.
The aim of Blog Management is simple- create a steady pool of revenue and guest posting orders for bloggers and publishers. It does so by working with more than 245+ advertisers (brands, agencies, and resellers).

The process of adding your site to Blog Management is easy and simple enough. You can enter all the details, list down your price, and activate your Publisher Account. The platform starts sharing your site with advertisers.

When you receive an order, you get notifications. You get the content that is properly scrutinized by their editorial team. You get the anchor text and link and all you need to do is publish the same. As soon you submit the Live URL, you can request the payment.

The platform makes payouts as and when the publishers want and do not dictate the same at the whims and fancies of the platform admin. This is a major reason why some of the best bloggers and publishers have become a part of Blog Management.
At last count, their publisher base had exceeded 7500+!
The Bottom Line
A decent blog that enjoys traffic of 1K+ and has metrics like DA and DR of over 30+ can expect regular orders. If you are serious about operating a side hustle, running a good blog is the most credible one out there. You will learn a ton of things about digital marketing and open up a great and sizable revenue stream. By aligning yourselves with platforms like Blog Management, you can rest assured that you will be making upwards of $1000 per month!
You do not have to know how crypto works or fall for a multi-level marketing networking plan. All you need is to start a blog and make it perform within a few months. This is all it takes if you are looking to create an income path that is different from your regular 9-5 job. Maybe this can fund your child's college education, or help you buy a new house in the next five years.
If you have any more questions on how to make money via guest posting services, let us know in the comments below. We will try to address as many of your queries as possible. For more education and information, write an email to us at info@blogmanagement.io