How To Start Guest Blogging? Easy Ways To Start
Writing is not about making money, earning fame, getting dates, or making new friends and admirers. Writing is all about enriching the lives of those who read your work. It's all about Getting up and getting well. Well, the opinion sums up the Idea of Stephen King. But the idea has transcended its boundaries and periphery. Let's learn how to start guest blogging.
Today, in the Internet age, you can sell your writing to project some product or services, express thoughts and opinions on subjects; connect with admirers and followers, and earn a handsome living.
Do you have a flair for expression?
Do you need to think of writing as your profession?
If so, Blogging, as a profession, is a job tailor-made for you. So let's discuss how to start guest blogging, especially when you are new to it.
Guest Blogging-Overview
Before you find out how to start guest blogging, you should know what is guest posting.
Guest Posting is all about contributing content to a website that is not your own. The Companies hire guest bloggers to present quality content for their followers.
Depending on the publication, you might get the remuneration for your efforts. Some publishers do not provide monetary rewards for your post.
If you know what guest posting in SEO is, you can apply those tricks and help your blogs rank higher on search engines. It will help you monetize the website, and you'll receive your fair share of monetary rewards accordingly. 
There are some reasons why you start guest blogging.
Brand Trust
The success of a company depends on Brand Trust. Branding goes a long way in orienting one's product or services to the consumer. Building brand authority is one of the main elements of trust-building. With high-Quality guest posting services, the companies leverage financial success.
Pulling In More Site Visits
A website without traffic is of no use. Therefore, the company makes sure that its website receives Traffic. When interesting content is inserted into the website, they generate the desired traffic. So, if you're looking for ways how to start guest blogging, you shouldn't delay anymore. 
Introducing You To New Crowd
Writing posts for someone else's blog enables you to get in front of the audience of the brand. This helps you increase your brand awareness as a writer, besides shaping brand awareness of the brand itself.
Free Backlinks
Guest Posting allows the company to get free backlinks. Free Backlinks are the lifeblood of SEO.
The more backlinks a website has, the higher chance it has of getting ranked on Google. This is one core advantage, that's for sure, which is why you must know how to start guest Blogging.
Some Facts And Stats On Guest Blogging
There are specific facts and stats on Guest Blogging that definitely will arouse interest in the Subject:
Around 3% of the Blogs go on to write nearly 100 posts per month. And this is a mammoth development so far as business is concerned.

Around 60% of Blogs write five guest posts every month.

Around 62.96 % of the consumers believe in websites or blogs with more than one writer. It is facilitated by inviting guest bloggers.

Guest Contents are in higher demand in the months of June, July and August. This is a brilliant development so far as catering to the needs of the customers is concerned.

Around 79% say that the guest contents are highly promotional, and that's how success is defined through generating Traffic. 
This data gives ample proof that there are pretty good opportunities for success that one reaps through guest blogging. So, find out the tricks on how to start guest Blogging NOW.
How To Start Guest Blogging? Easy Guide
To be a guest blogger, you need to follow specific scheme guidelines. This will help you as a new blogger.
1. Setting Specific And Achievable Goals
The first step that is required to start a successful guest blogging process is to attain a measurable goal.
This is strictly related to the website performance of the website. When you are just getting started, you need to measure specific goals:
Firstly, you need to get a certain percentage of visits from your guest posts, or you need to increase the Traffic by around a certain percentage from your guest posts.

You need to improve your SEO performance or visibility by around a certain percentage.

You need to get a certain number of leads from the referral traffic from your guest posts.

You need to try increasing the number of leaders from your guest post by a certain percentage. A change in these metrics can be traced by guest blogging.
2. Choice Of Topics
Content is significant. Many times, the guest blogger often focuses on the publication and not on the content.
That is a good strategy to make sure, but at the end of the day's play, the process serves the publisher's goal but not yours as a writer.
So you need to pay ample attention to Quality development because this is clearly in your hands. Before you find out how to start guest blogging, you need to start picking up your goals.
Simply start by making a shortlist of the top website pages that you intend to promote. Analyze the current status for each page, and then set the goals you want to achieve.
3. Find Reputed Guest Blogging Sites
Now that you have chalked out or mapped out the content idea, it's time for you to find out the relevant publications.
In order to do that, you need to use Advanced Search Operations. You also need to use Google Image search to find the places.
4. Conduct Guest Blogging Outreach
You need to start thinking about pitching your guest pose ideas on the guest posting sites. We generally suggest a blogger outreach process strategically, starting from the keyword you found in your target publication.
You need to check if the website you targeted already ranks for chosen topics.
Now that your pitch is ready, it's time to find the contact person in order to reach out to them.
Now a powerful CRM can help you track all the relevant information that is required by you.
Once your pitch is approved by the editor, you can flesh out your own ideas and write an adequate draft.
5. Writing The Posts
This should be a more straightforward step of the entire process. Now that you have picked up the topic you feel passionate about, start writing a well-chalked-out article.
Your expertise will come in handy because you are writing for the company. There are different websites where you can publish your guest posts.
You could find them all from Blog Management. Whether you are new to this or experienced, here are specific recommendations you could follow:
Firstly, write compelling content of at least a thousand words.

Secondly, you need to disintegrate the long text into digestible paragraphs.

Thirdly, use the original images and graphs to make your content relatable or linkable.

Finally, link the other publishers' guest posts. You are relating to your own relevant content. Link internally to other articles from your publishers.
6. Track The Results Of Your Post Over Time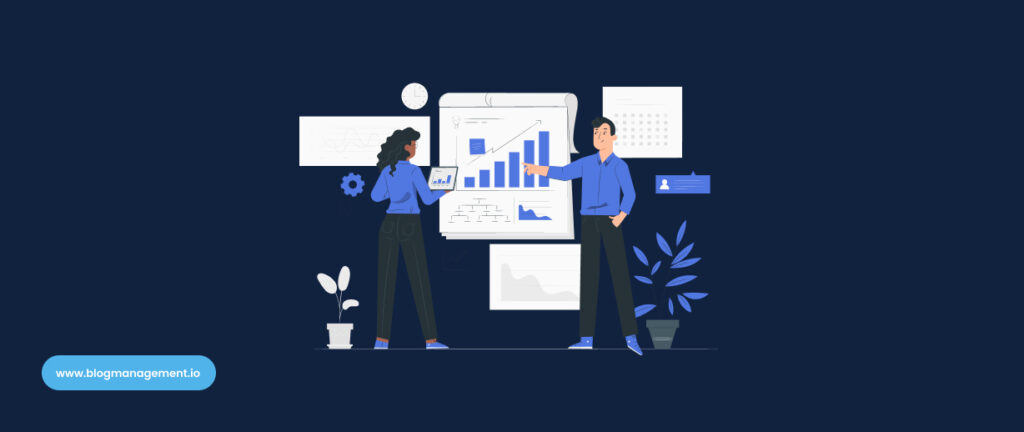 You have put in your hard work and input into it if you want to know how to start guest blogging. You must ensure that you compare your results to where you were at the beginning of the entire process.
The selection of the tools depends on the goals that you have set in.
Conclusion
Therefore, it is found that if you have the related skills and competency to write original content, there are tools that assist you in making your article SEO optimized.
You have ample scope to become a successful content creator if you only figure out how to start guest Blogging.
So hone your talent and make sure you give your best in this trade.